Everything You Already Do, But Easier.
Plan Events
Control everything. Automate and replicate service opportunities for individuals and across student groups.
Seamless Communication
Set it and forget it. Commitment reports and in-app reminders help everyone follow through.
Measure Impact
Track volunteer hours and measure your program's impact across teams, groups and previous years.
Engage Students
Create fun service competitions to challenge students to go above and beyond requirements.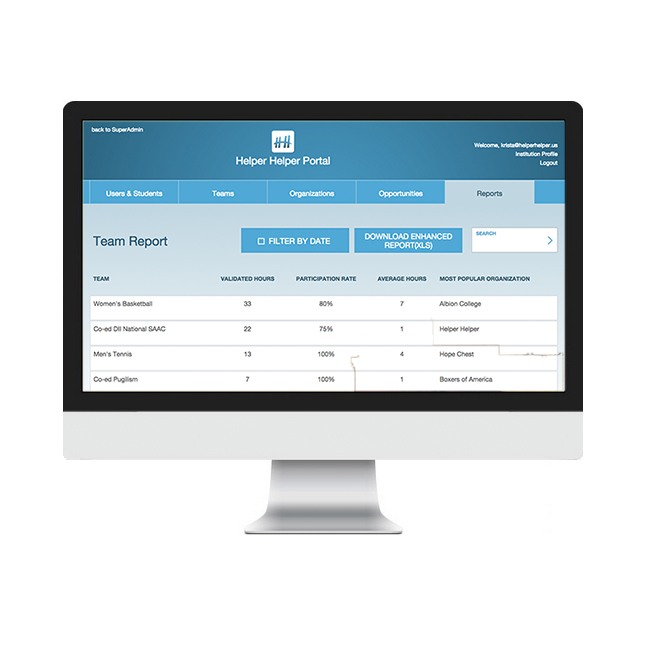 Coordinator Portal


Quickly add volunteer opportunities and push them out directly to individuals or select teams. The platform assists with sign-ups, reminders, coordination, tracking and reporting.

Smart Phone App

Finding opportunities and tracking hours has never been more convenient. Students can view future events, commit to them in-app and track their efforts.

Helper Helper Community

We are always improving our platform so you can improve your program. We actually listen to your insights and feedback so we can help everyone make a bigger impact in their community.

Quantifying Social Responsibility
View Commitments
See who is volunteering for each event before it happens.
Track Service Hours
You don't know where you are going until you know where you've been.
Group vs Group Breakdown
Who is the best performing team at your school? Now you will know.
Pulse of the Program
Measure the health of your service program against previous years and other schools.
Recognize Top Performers
Create competitions and reward student who go above and beyond requirements.
Your Strongest Partners
Get a complete breakdown of the most popular organizations served by your students.