The 2020-2021 school year brought many changes for students across the nation but one thing that we saw stay constant was the desire for these students to serve their communities. Though the ways in which this could be done safely may have varied for each individual we were really proud to see so many efforts being made to make a difference.
The recipient of this year's #BeAHelper award is Jayci Brauman.  Jayci is a member of the 2022 graduation class at Montverde Academy.  Ten years ago as an elementary student Jayci was inspired by a personal experience to start the Art Cart Donation Project.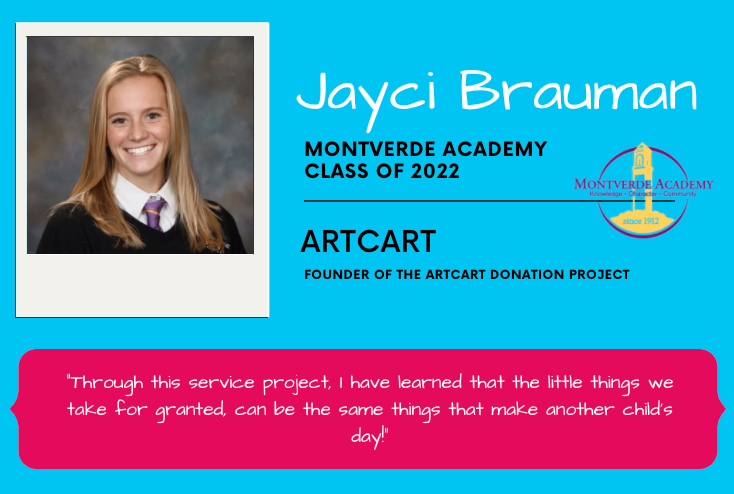 Jayci Brauman, Montverde Academy, Class of 2022
1.What organization/project did you work with the most?  How did you get involved with this program?
I created the Art Cart with the help of my mom and Arnold Palmer Hospital. When I was 7 years old, a family friend, had a  baby boy that passed away from heart disease.  He was only a couple of days old and this situation had a large impact on me. At the funeral, the family asked people to donate coloring books to the local hospital. This gave me the idea of sending art supplies to a hospital in our area. My mom helped me partner with Arnold Palmer Children's Hospital and we created the Art Cart Donation Drive.  Arnold Palmer had a project to help distract kids and asked if I could help with getting supplies. The Art Cart was made for kids and allows them to play or do projects while waiting for surgeries or treatment. 
2.What does spending time in the service of others mean to you?
Spending time helping others means that I'm providing a happy outlet for kids when they are scared or nervous for treatments or when anxious in the hospital. I feel a sense of pride after each donation we send. Once, I was sent a letter from a little girl thanking me for the donations. It was amazing and felt very rewarding because she used the supplies in the Art Cart to make the card.
3.What did you learn from the experience that you would want to share with your fellow students?
Over the past 10 years, through this service project, I have learned that the little things we take for granted, can be the same things that make another child's day! While donating to the hospital the nurses often tell me how excited the children get when the Art Cart comes around. I think that's amazing!
Three other schools were chosen to highlight their student efforts.  Below you can read student submissions from Palo Alto High School, Health Career Academy, Rocky Canyon High School and Central Catholic High School.