"Helper Helper is the perfect way to integrate student-athlete development into my student-athletes lives and most importantly in their hands! Our student-athletes are always on the go and don't really pick up fliers that we have out. And because they are always looking at their phones, they often tell us they don't see fliers we put on on the walls. By using Helper Helper to post community service events, job postings, life skill credit opportunities, special events, and MORE, we are able to communicate with our student-athletes different ways to engage and enjoy life in our city. THE BEST part about tracking everything is that when it comes time for graduation/creating a resume/looking to see what interest our athletes, we can just run a report from Helper Helper. Our student-athletes don't have to try and think back to their freshman year, we have everything tracked and documented!"
The Problem:
The Charlotte 49ers student athlete development program is robust. They have an extremely active Student-Athlete Advisory Committee (SAAC) and offer a lot of different events that support student-athletes and prepare them to be leaders in life after college. There are Community Service events, SAAC events, Leadership Academy Events, Career Development events, Personal Development events and Campus events all happening alongside classes, competitions and practice.  As you can imagine, with Chris Everett's level of commitment to his student-athletes and the resulting logistical demands of his job are high. 
Major pain points –
An excessive admin task for Chris and his team.

Team members employed to put on programming are spending a majority of their time scheduling, marketing, managing sign ups and recording hours.
Prior to using Helper Helper Chris and his team had to send out numerous emails, put up flyers, manage sign up genius, track paper forms, and ultimately reach fewer students with a lot more work. Then at the end of the year it was a real chore to put together all the reporting. Not to mention, none of the data was broken down by student so they could not use all their experiences to help them get jobs and apply for post graduate scholarships.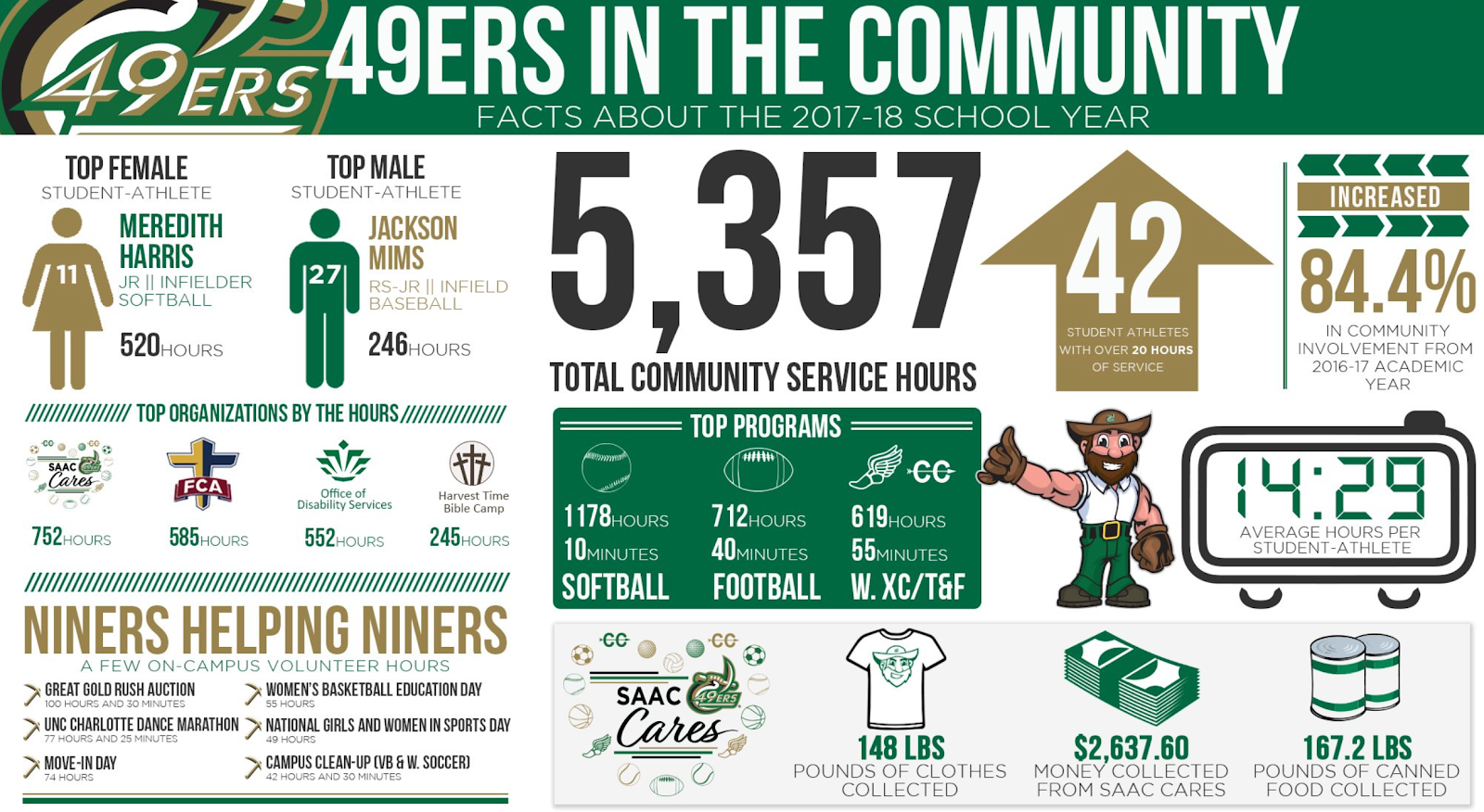 The Solution:
The Charlotte 49ers Athletic department was seeking a solution to not only be used for community service but for all student-athlete development programming that would help engage more student-athletes and free up a ton of scheduling, communication, and reporting administrative tasks. 
Helper Helper worked directly with the team to: 
Build out custom categories that could be used to flag the different events his department offered so student-athletes only needed to visit one place to find events.

Set up flags in the reporting so Chris could sort events however he wanted allowing him to see what teams and individuals have participated in each program he offered. 

Developed functionality allowing him to create time slots, send custom notifications and reminder emails, limit the view of the opportunity to certain groups of teams – ultimately giving the students to choose when a particular event fit into their schedule or to attend the events that seemed most relevant to them.
The Outcome:
Having adopted Helper Helper for all student-athlete development programming in the Charlotte 49ers athletic department has produced these outcomes: 
Reduced administrative task time by 75%.

Increased percent of students involved in the programming.

Enabled the team to offer awesome programs that students could easily sign up for through an iOS, Android, or web application right on their phone.
Community Service the Helper Helper way.
Spend less time managing your volunteer platform and more time increasing your community impact.