Over the past weeks we have seen so many creative ways that people are staying connected and engaged in their communities during this time of physical distancing. From sewing protective masks, grocery pick ups, to video tutoring and virtual readings.  People have found a way to take their personal talents and through virtual volunteering share them with others within their communities and across the nation. 
Being able to track this service will not only allow for individuals to archive their efforts while staying home, it will also help tell the story of how your volunteers as a whole have come together. Using Helper Helper to help coordinate as well as archive these events is simple and easy.
Coordinating Virtual Events 
There are two ways of creating virtual events for volunteers through Helper Helper.  The first way is by using 'Ongoing Opportunities.' When creating an ongoing opportunity you are creating an event that has no specific time or place.  Using Ongoing Opportunities is a great tool when you want to create an event that can be done on the volunteer's time schedule.  It is a place where volunteers can scroll through and find options and ideas of ways to volunteer. 
Ideas of Virtual Ongoing Opportunities:

Sewing Masks – In the description you could link out places accepting homemade masks as well as tutorials on producing protective masks.
Pen Pals – This could give addresses of places like nursing homes and care facilities where "happy" mail would be accepted. 
Grocery Pick-Up – May give a letter or text template that volunteers could use to reach out to immunocompromised friends and neighbors who may be looking for extra help.
To track an ongoing opportunity you would submit what you did through "add past commitment" on the app.  See Tracking Individual Virtual Efforts below.
Scheduled Virtual Volunteer Events
The other type of event that can be scheduled in Helper Helper are events with specific time commitments. These events would be created the same way events are normally created in Helper Helper.  They would have a time frame or time slot options that a volunteer would specifically select. But, when creating a virtual volunteer event you will want to pay special attention to what you want to do with validation.  Turning off validation would allow volunteers have their time validated when they record that they were at the event through Helper Helper, keeping validation on would mean that you would want to distribute the validation code to the volunteers that participated, or an admin would go back into Helper Helper after the event and validate the participants of the event.
Volunteering Ideas : 
Virtual Tutoring – This would be best set-up with time slots allowing each time slot to highlight a specific subject or person to be tutored.  You would likely need to follow up with email or notification to provide the tutor with the appropriate video conferencing link. 

Online Book Readings – This may be set-up as a time slot or recurring event to fill the needed times. 

Food Pantry – This could be coordinated with the local schools or food pantry helping with food collection and distribution.
Tracking Individual Virtual Efforts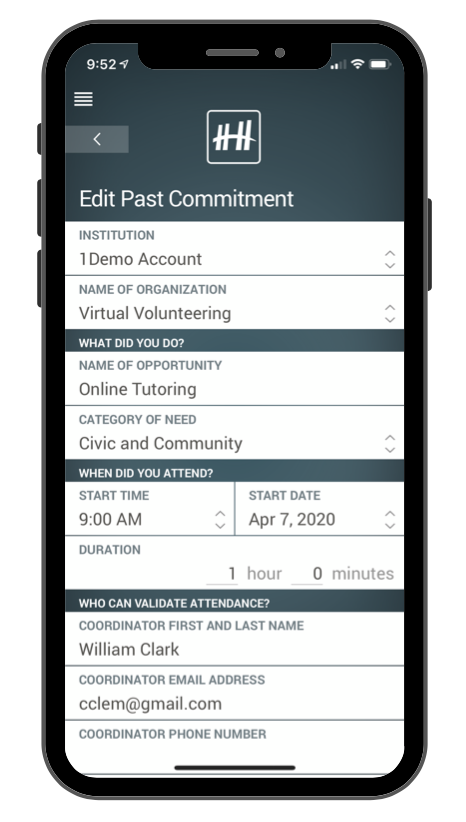 Volunteers can track their personal efforts using the 'Add Past Commitment' feature on the app. As a volunteer you are able to track what you did, how long it took and even leave a brief description and photo. All of these events will go directly to the admin portal of Helper Helper and will also accumulate in the 'My Stats' tab of the app. As always validation for these events  is based on account and will function the same way your account always does. If coordinator validation is turned on for your account you may want to provide additional instructions to your volunteers on who an appropriate coordinator would be.
If you would like to learn more about building community check out our blog.