Each year we are able to recognize efforts of high school students through our Fall and Spring school challenges.  This year we wanted to expand upon this recognition by adding a spotlight on individual students efforts in their communities.  To do this we selected students across the nation that exhibit an excellence in service and asked them few questions about what how what and why they serve.
The recipient of this years #BeAHelper award is Eunchae Hong.  Eunchae is a freshman at Palo Alto High School.  During this year alone she has dedicated 132 hours to her community.  Read below to learn more about her commitment to the global non-pro Seeds for Empowerment and why service is important to her.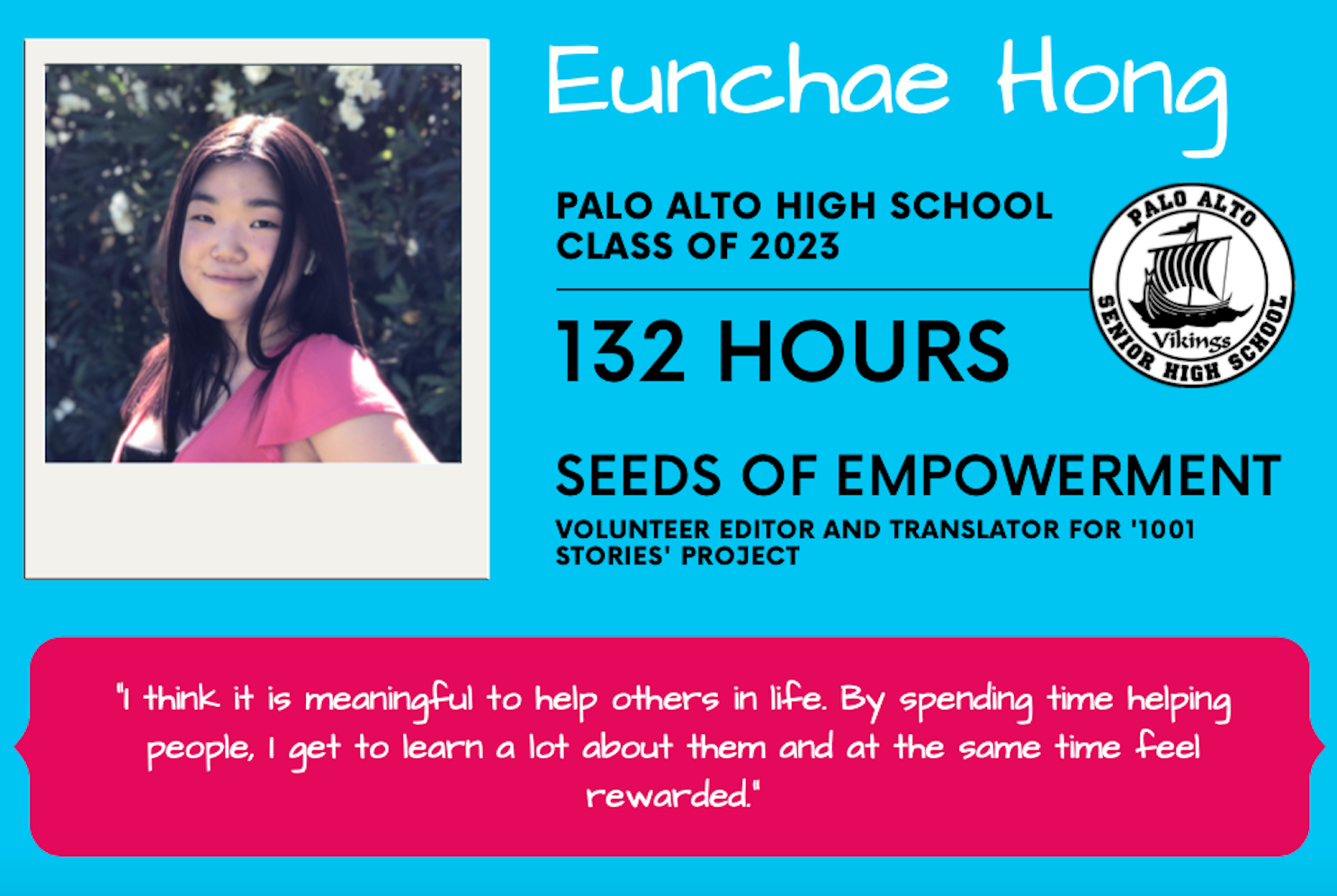 Eunchae Hong, Palo Alto High School, Class of 2023
What organization/project did you work with the most?  How did you get involved with this program? 
I volunteered at a non-profit organization called Seeds of Empowerment (SoE), as a youth volunteer. SoE is a global non-profit organization committed to bringing empowerment through education, possibly through applying educational research outcomes from Stanford University. Most prominently, SoE is running a few projects to help children in underserved regions with access to good quality of education. "1001 stories" is one of such projects where they collect stories from children in underserved regions and publish those as picture books to share across the world. To collect the stories, the SoE 1001 team holds competitions in many under-served villages and goes through a selection process. SoE team relies on volunteer's work when making picture books out of the stories, including editing, translation, and illustration. Picture books are distributed and sold through global members of SoE. Profits of sales are given back to the authors of the stories. 
I came to know about this project thanks to my mother, who used to work as a volunteer for this organization. I thought it was a really amazing organization and immediately wanted to get involved. I mainly worked on editing and translating the chosen stories. Luckily, I could start working on helping kids in under-served areas to share their stories with people all around the world. 
What does spending time in the service of others mean to you?
I think it is meaningful to help others in life. By spending time helping people, I get to learn about them a lot and at the same time feel rewarding. So, I try to help others in my everyday life, even if it is not helping people globally. It may be volunteering for my community or helping people around me. For example, I volunteered by helping school orientation or helped my classmates with their schoolwork or to study for their tests. Sometimes, I try to help my parents with household chores by washing dishes or washing clothes. The fact that someone's life is a little comfortable or happy with my little help makes me happy. This happy feeling seems to be the driving force that keeps me helping others.
What did you learn from the experience that you would want to share with your fellow students?
This experience has taught me many valuable lessons. Firstly, it has shown me that not everyone in the world is not as privileged as the people in my community and me. I always knew that not everyone had as many privileges as I did, but this experience helped me open my eyes to the struggles kids my age face every day. When I got to know these kids, I really wanted to do something that would be able to help them, so I immediately started volunteering for this organization. Secondly, this experience has shown me feel the fun of editing, and even love editing. Before this experience, I never had an opportunity to edit books or passages. But as soon as I started to edit, I quickly fell in love with editing. I enjoyed knowing that my work was going to be helping people in need: this is why I was able to work on it all night long during the summer. I think that if anyone has a chance like this, they should take it because they will be able to learn many valuable life lessons from it. 
Three other schools were chosen to highlight their student efforts.  Below you can read student submissions from Palo Alto High School, Health Career Academy, Rocky Canyon High School and Central Catholic High School.

Kalidev Choudhury, Palo Alto High School, Class of 2021
What organization/project did you work with the most? How did you get involved with this program? 
I started my volunteer service with the Veterans Affairs Hospital in Palo Alto. I was extremely interested in medicine and wanted to see what the hospital environment would be like. I started out in Patient Transportation, wheeling veterans around the facilities to their destinations. Throughout this time, I found opportunities to interact with many different people. One thing I learned is that a lot of people, especially veterans, love to talk. Topics of conversation can be smaller, such as wanting more staff in the dermatology department, or they can be on larger scales, such as questioning the lack of support provided to veterans by the government. 
A lot of veterans find it difficult to make their voices heard. Veterans of the Vietnam War spoke about the period after the war when they had to hide the fact that they were veterans due to ostracism by society. They felt their thoughts about their experiences had to be shut out for a long time; some people still dislike talking about it. I did not grow up in the shadow of the Vietnam War, so I was unaware of the animosity Vietnam veterans faced upon returning home. I felt bad for them after that they had fought on behalf of our country and met such scorn when they arrived home. I decided to start a personal project called The Lost Stories in order to preserve the stories of these veterans as a way of giving them a voice and a platform. I started out by interviewing veterans within the VA and then increasing my bounds by visiting the local American Legions. At the American Legion, I expected to find more veterans to interview, which I did, but the relationship with the American Legion turned into a partnership. I received a grant from the American Legion to continue my work on The Lost Stories. My continued contact led me to redesign the Legion's website to make calendaring and hall-rental more efficient. The Legion commander invited The Lost Stories to have a page on their website, and it does. To my surprise, the American Legion named me as a delegate to Boys' State 2020, a summer educational program that is among the most respected and selective of government instruction for U.S. high school students. It was an honor to be selected.

Alexis Hernandez, Health Careers Academy Class of 2020
What does spending time in the service of others mean to you?
Personally I believe that contributing beyond yourself creates the positive in you. I think that in order for one to live a successful and blessed life, we must have a balance of various things. Being of service counts as a huge portion of that balance. Being of service means being able to help others in any way that fits your time schedule. Contributing your time and energy helps keep your life in check. It allows you to see what goes on in your surroundings and see the world for what it truly is, opposed to being in a fantasy world. I think that being in any kind of service not only does good for the community but it does good for yourself. It's been statistically proven to improve health by strengthening the body, improving mood and lessening stress. When I go out into my community I feel as though I am a part of a cause much bigger than myself. It makes me proud to have so much passion for one particular thing that I do in my life. I think that with the way society is today the youth need to be more involved with their community in order to overcome the dominant narratives that are told. It gives us the opportunity to set an example for future generations to be loving and giving to those around us. Creating a new narrative and allowing it to blossom into something wonderful. 
What did you learn from the experience that you would want to share with your fellow students?
I've learned a lot of different things throughout my experience at St. Joseph's Medical Center. One of the most important things that I have to learn is Teamwork. I've learned that this facility works solely on teamwork. My supervising mentor has taught me many principles such as having patience, being quick and being able to relate to others. Prior to this experience, I knew that my tolerance for things wasn't at it's best. I prefer that things are fast-paced and performed efficiently. Being a part of this community has been a blessing because everyone at St. Joseph's lifts each other up and they help each other reach their goals. I think that this atmosphere is something that I really enjoy because they try and make sure everyone is comfortable and it creates this huge family. Being that the first month my communication skills and my social skills were horrible, now reflecting on the vast differences from my freshman year to my senior. I've realized a lot about myself and have realized that my mentality is the same as other individuals in my community. I was very shy at the beginning of this pilot program but then with the help of others, I became more open to the idea. It allowed me to get to understand the different kinds of people they are and how to handle different kinds of situations. It's allowed me to grow in areas that I need to improve in.

Lillian Valenzuela, Health Careers Academy, Class of 2021 
What did you learn from the experience that you would want to share with your fellow students?
Something I learned from the experience that I would like to share with my fellow students, is that everyone has their own unique personality that adds to the diversity of the world, and when you partake in these opportunities you get the advantage of an eye opener to see how amazing the world is and the people that help make it amazing. 

Amy Trigueros-Ventura, Health Careers Academy Class of 2022 
What does spending time in the service of others mean to you?
What ¨spending time in the service of others¨ means is putting full effort into the service/event without expecting anything in return. You do it out of the goodness in you, not hours or anything else the organization offers to you. It is like being a doctor or anyone that works with people, some do it for the money and some do it to genuinely try to help people and understand them. Humanity revolves around love and kindness.

Daisy Victoriano, Health Careers Academy Class of 2023
What did you learn from the experience that you would want to share with your fellow students?
What I learned from the experience that I would want to share with my fellow students would be patience. When I would volunteer at the after school program at my old school, I personally learned to be patient with others and myself. This is because I learned to be patient with students that are younger than me because I realized that we all different when it comes to learning or simply just to life. When these students would try to do things they weren't good at and ended up doing it wrong, it made me a bit upset because I wanted them to get it right away. I wasn't very patient in my head but then I related it to myself in the form of when I was younger and how I was also went through that same stage as them, when I wouldn't understand things and till this day I sometimes still don't understand things. So now when I start to feel impatient with others, I want to think about how I can relate to the issue or situation before I get mad easily and try to be more mindful about the situation.

Jordan Goodman, Rock Canyon High School, Class of 2023
What does spending time in the service of others mean to you?
Doing this service for others really means a lot to me because it is a chance where I can help people that have less than me and I can experience other places in the world and see how others live. 

Helmsley Farmer, Rock Canyon High School, Class of 2022
What does spending time in the service of others mean to you?
Spending time in the service of others means humbling yourself and doing what you do with joy, knowing that even though what you are doing may be overlooked by all the little campers there, the camp would not run without you being there. I had to give myself the daily reminder that the joy I see on the kid's faces was because of the work we do behind the scenes. I love caring for others and I hope to become a nurse in my future so that I can continue to impact people's lives with the little things I do.  I also believe that serving others through non-paid volunteer work is the most humbling thing a person can do. You give up your time that could have been spent making money, to better the lives of the people around you, not only because you have to for the hours, but because it brings you joy to see how much of an impact you can have on someone's life even if it is the little things. 
Through this I have learned that service is such a rewarding thing and it is something I hope to continue for the rest of my life! 

Isabel Kiefert, Rock Canyon High School, Class of  2021
What does spending time in the service of others mean to you?
Spending time serving really motivates me in all aspects of my life, it has developed my work ethic and introduced my to some of the most amazing people I've ever met! It completely grounds me to know I am helping people and impacting their lives on my own time, I love serving!
What did you learn from the experience that you would want to share with your fellow students?
I learned so much from serving, but mainly I learned the value of kindness and empathy. Working with so many people and changing their lives through kindness and compassion has made me such an overall better person and has broadened my community. Kindness and empathy have changed my life so it is only my duty to repay the favor to the others I meet!

Anne Dunn, Central Catholic High School, Class of 2021
What organization/project did you work with the most? How did you get involved with this program?
The organization that I worked with the most was the Salesian Sisters of Don Bosco. I volunteered as a counselor at their summer camp in Salinas, California for two weeks. The camp is for girls aged 6-14 and involves many activities such as daily mass and rosary, athletics, sewing, and cooking. I found out about this camp through my grade school and attended the camp when I was 14. I have been a counselor for the past two years and have enjoyed getting to work with these kind women and make an impact on the campers. As a counselor, I worked with the kids from the time I got up to the time I went to sleep, helping them with all their activities. This included helping them with meals and keeping them safe at all times. I look forward to volunteering with the Salesian sisters again this summer.  
What does spending time in the service of others mean to you?
Spending time in the service of others means giving my time back to the community for all the ways I have benefitted from others sacrificing their own time. I have been blessed by the kindness and service of others throughout my life and I want to spread that to others. Serving others also means following the teachings of Christ and learning how to become a better disciple of Him. We are called to serve others, especially those in our community who are in great need. Through this time of service, I have grown to recognize the importance of volunteering to improve the lives of those around me. By giving time to others, I have realized the impact of selflessness on a community. 
What did you learn from the experience that you want to share with your fellow students?
I want to tell my fellow students that serving their community makes a bigger impact on the lives of others than they understand. Spreading kindness and selflessness is important to be lights in our world. Even simple acts of kindness can change a person and inspire them to spread love to others. I would also like to tell my fellow classmates that they can have a huge impact on young children around them. Through volunteering at this camp, I saw how the young girls looked up to me and sought to imitate my actions. Spending time with children and being role models for them will make a huge impact on the world. I want to encourage my fellow classmates to serve because they will get more out of it than they expect.