Background
Community Engagement at Rock Canyon High School is part of every student's learning experience. In fact, Douglas County School District lists Community Service as one of its four graduation requirements. Which means that all Rock Canyon students need to track volunteer hours. Serving is an amazing way to apply leadership skills, increase your sense of purpose and improve your self confidence – while learning about causes you care about most.
Problem
This all seems wonderful! However behind all those wonderful community service experiences students are getting, there is one person (or tiny team) pushing out volunteer opportunities and collecting thousands of paper forms for verification. That person at Rock Canyon is Barbara.  When we first talked to her she told us about the stacks of papers that students would hand in, that she'd add to her excel sheet and verify. It was a tedious process to say the very least. 
"I have been tracking volunteer hours for a school that has grown from 1,800 to 2,300 students over the past six years. During this time, student volunteerism has multiplied to such an extent that I would be buried under a foot of paperwork on a weekly basis. Our students can letter in community service because, for some, it is their passion. Students can achieve service lettering at the 100, 250, 500 and 1,000 hour levels."

– Barbara Hendricks: Counseling Secretary, Rock Canyon High School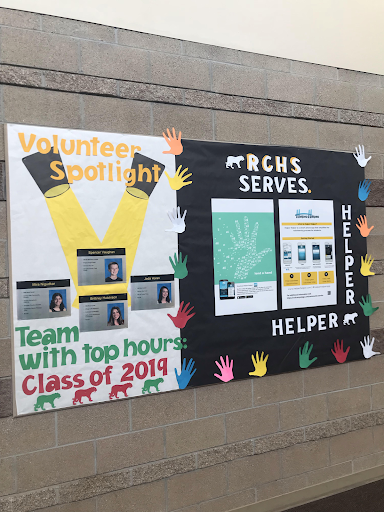 Benefits
Barbara loves her job and she knows the benefits of service learning. There is a lot of good that comes from engaging in the community: 
Develops student's critical thinking, problem solving, leadership, decision making, collaboration and communication skills.

Builds positive relationships with community members.

Connects real world experiences to classroom lessons.

Students uncover a deeper understanding of themselves and empathy and respect for others.
She learned quickly, with Helper Helper, that she could make her life and the student's lives a lot easier. She chose to work with Helper Helper because she loved how supportive our team was. She also loved the validation that happened via email or text with the non-profits.  Mostly she loved that students could see, in real time on a native iOS or Android app, the number of hours completed and the causes supported through service.
Prior to the school wide adoption of Helper Helper to track volunteer hours, students could not easily access their hours.  After implementation the number of seniors that were "off track" on the 20 hour community service graduation requirement drastically decreased.
"Helper Helper has been magical and Krista and her team are fantastic to work with. They have been accessible and prompt every step of the way. Students love the app and find it really easy to use. On the administrative portal side, it is simplistic as well. More and more teachers and students are coming to me daily to post opportunities, which can be pushed out to the whole student body or specific group or 'team'. There is so much flexibility in the app to add multiple time slots, identify a different coordinator, set a maximum number of volunteers, and so much more. I highly recommend Helper Helper for the ease of use, customer service support and flexibility within the administrative portal of the app."

– Barbara Hendricks: Counseling Secretary, Rock Canyon High School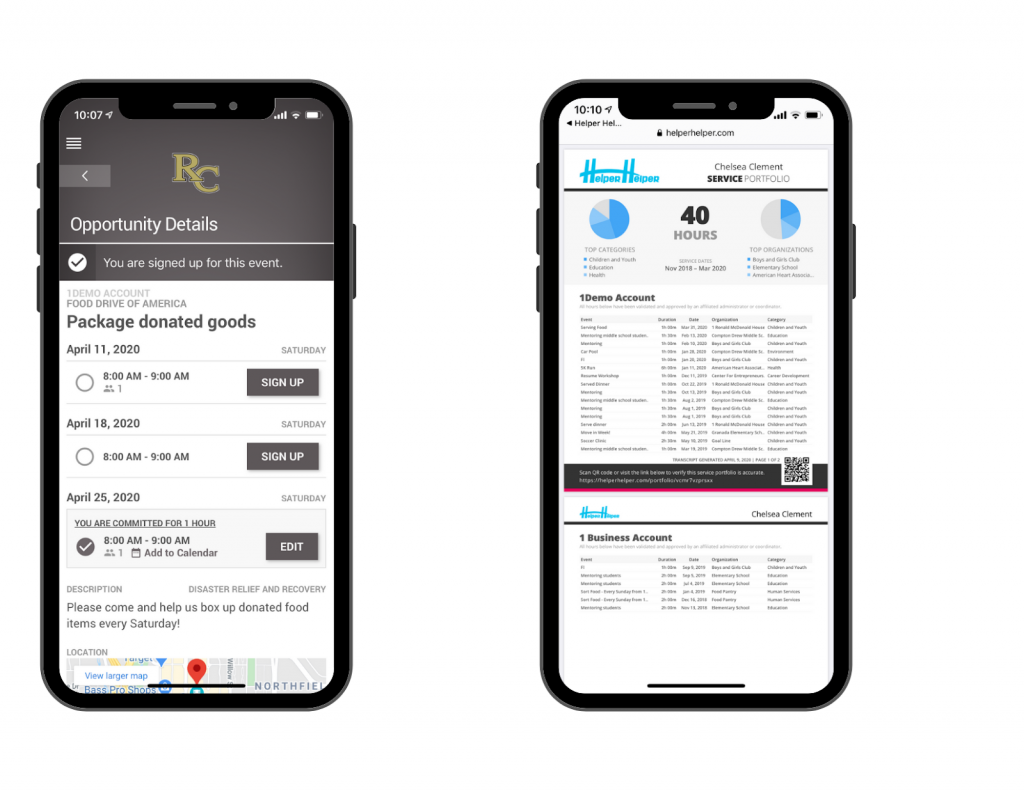 Conclusion
Helper Helper gives Rock Canyon High School students the ability to find and sign up for opportunities and easily log what they've done. At any moment the students can pull their service transcript and use that when applying to colleges or for scholarships.
Everything the students record feeds back into the portal. From which Barbara can pull reports and we've actually set it up so Helper Helper can feed the hours directly into Infinite Campus. In their first year, Rock Canyon High School recorded more than 10 hours per student with a total of 25,580 hours. Both the administrators and students at the school love Helper Helper.
Community Service the Helper Helper way.
Spend less time managing your volunteer platform and more time increasing your community impact.